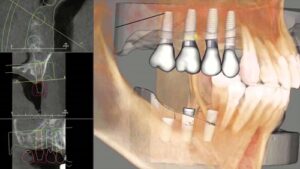 Masaryktown dental patients may be considering implants if they've lost a tooth, need a tooth to serve as an anchor for bridgework or require implants to replace their dentures.
Dental implants have many advantages, as they look and perform like your natural teeth. There are now new dental implantation techniques that limit the number of incisions and implants that are required to give you an incredible smile.
For instance, all-on-four dental implants can be used to replace a full denture on the top or bottom jaw (or both). For these special dental implants, Masaryktown patients will receive a total of four "ports" which are implanted into the jaw. These ports are used to secure a denture-like structure that perform just as your natural teeth would perform.
In other cases, a simple anchor is implanted in the jaw bone. Then, a tooth is affixed to the anchor, which replicates the function of tooth's roots in terms of the general form and function.
What Happens When You Get Dental Implants?
Masaryktown dental patients can expect to remain awake while receiving dental implants in most cases, as local anesthesia is generally the norm for this type of procedure. That said, many dental clinics offer conscious sedation to help the patient deal with any fear or discomfort that arises.
If extractions are required or if the jaw bone's integrity has been adversely impacted by infection, it may be necessary to wait for healing to occur before the dental implantation procedure is performed. This ensures that the implant has sufficient surface area with which it can fuse and bond with in the jaw. Bone grafts may also be placed. Small bits of bone are placed into the area in question and this results in faster healing.
After the implant is placed in the jaw and it is deemed to be fully secured, the other portion of the implant – the crown or a denture-like structure in the case of all-on-four implants – are added to the equation.
Wondering about the primary benefit of dental implants? Masaryktown patients enjoy a natural function and the appearance is so realistic that it's impossible for others to determine that you have anything but your natural teeth!
Once fully healed, dental implants look and perform just like natural teeth. If you're considering dental implants, Hill 'n Dale patients should speak with their dentist to determine which style of implant is best suited to their unique needs.
*Disclaimer: The views expressed here are those of the authors and do not necessarily represent or reflect the views of Anchor Dental Care*